English Theatre
the representative of the
AMERICAN DRAMA GROUPE EUROPE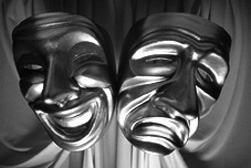 English Theatre offers English language performances to audiences in the Czech Republic, Slovakia and Poland.
Performances are produced by the AMERICAN DRAMA GROUPE EUROPE (ADGE) based in Munich, Germany and performed by the British theatre company TNT THEATRE BRITAIN.


Upcoming performances:
PYGMALION
by G.B Shaw
2.10. - 8.12. 2023
1984
by George Orwell
spring 2024
ADGE tours plays and adaptations of classical and modern literature in English throughout the world. The company aims to present dynamic, accessible and illuminating theatre that appeals to a wide audience, including those whose first language is not English.
The performances are highly visual and are usually accompanied by original music and dynamic movement. The language of the plays is unabridged and there are stagescripts available for audiences on the website.


last update 27.8.2023